DRAFT: This module has unpublished changes.
DRAFT: This module has unpublished changes.
                               This is an excerpt from a fictional conversation between Judith Butler and Jennifer Pervis about the way we speak
about gender and sex.
Fade In: 
On Staten Island, the Muddy
Cup, a daytime coffee house
and local hangout. 
An Indie jazz bands plays soft melodies on stage. A group of students are studying for their midterm in the back corner. Judith Butler and Jennifer Pervis sit at a round table to the left of the stage, both with a cup of tea placed in front of them. It's Monday March 8, 2012. 
I want to tackle this concept of queer being the center and point of reference for women  gender studies. 
If we look at queer, in its otherness. We can utilize that positioning as a powerful tool or mechanism in the way we discuss WGS. 
What if we used bottle or chair instead of queer? I'd like to suggest for us, you and I to demount or even substitute the word queer. 
Despite its negative connations and the historical magnitude queer carries. We can't remove the word from its context and replace it with one that holds no meaning.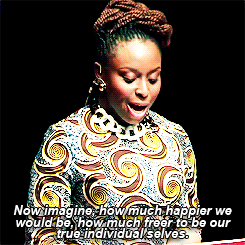 The way in which we talk about WGS and how we use women, girl, female. Semantically, these are blanket statements that are supposed to be representative "identities" across the WGS field. But they don't adequately represent all those who are in favor. In addition, these words created and used in nothing less than an oppressive context. We must disarm ourselves from devices that support patriarchal systems, queer and woman included. 
Is it possible for Queer to be perceived as an almost dangerous way of being? Its very definition is; differing from what is normal. But still be used as a way to control our own narrative? 
How can we fight in a war if we're utilizing the same weapons of our enemies?
Is it possible to completely detach from a word that was created against us to work in our favor? Yes, I believe so. I believe it's very possible. 
We must analyze the way in which we speak about WGS before we delegate the identities of the people within the movement. What we've been taught is to use words that don't allow us to be, these titles that restrict and imprison us. With that said, the manner in which we choose certain titles to represent of us. There must first be a conversation, an acknowledgment of what we're saying, how, and why. Then to select from a conscious mind, what we decide that represents us all. And without agreeing to a word or term(s) that feel safe, we can't begin to blindly choose titles that were intentionally built to divide and alienate.  
I don't agree that we can't use the very devices that were created to work against us, in our favor. "The Lavender Menace, they formed a group, reclaiming an epithet used against them as a point of solidarity"(Pervis 2011). It's working within these systems that we will find how much work has been done and not to dismiss those works.   
I'm not suggesting a banishment of a word or words but a dissecting of how we use them. In doing so, maybe, hopefully we will emancipate ourselves from the very systems they were created from. Before we can discuss what's the best way to discuss WGS we must address how we discuss. If we know we're in chains from patriarchy, institutionalized racism, etc. We must not ignore our conditioning and how we involuntary contribute to these systems with the way we speak. We give into the way they function when we don't recognize the way it's embedded in our daily lives.
Butler leans back in the seat with hands intertwined on top of the table. Pervis leans forward to take a sip of her tea. The alternative jazz band on stage begins their last set.  
Butler, J. (1990). Women' as the Subject of Feminism" WITH "The Compulsory Order of Sex/ Gender/ Desire. Gender Trouble. Retrieved October 1, 2016, from Digication.    
Purvis, J. (2011, December). Beyond Historical Injury: Rallying with the Deviants of Women's and Gender Studies. Rethinking Women's and Gender Studies. doi:10.4324/9780203134719 
DRAFT: This module has unpublished changes.